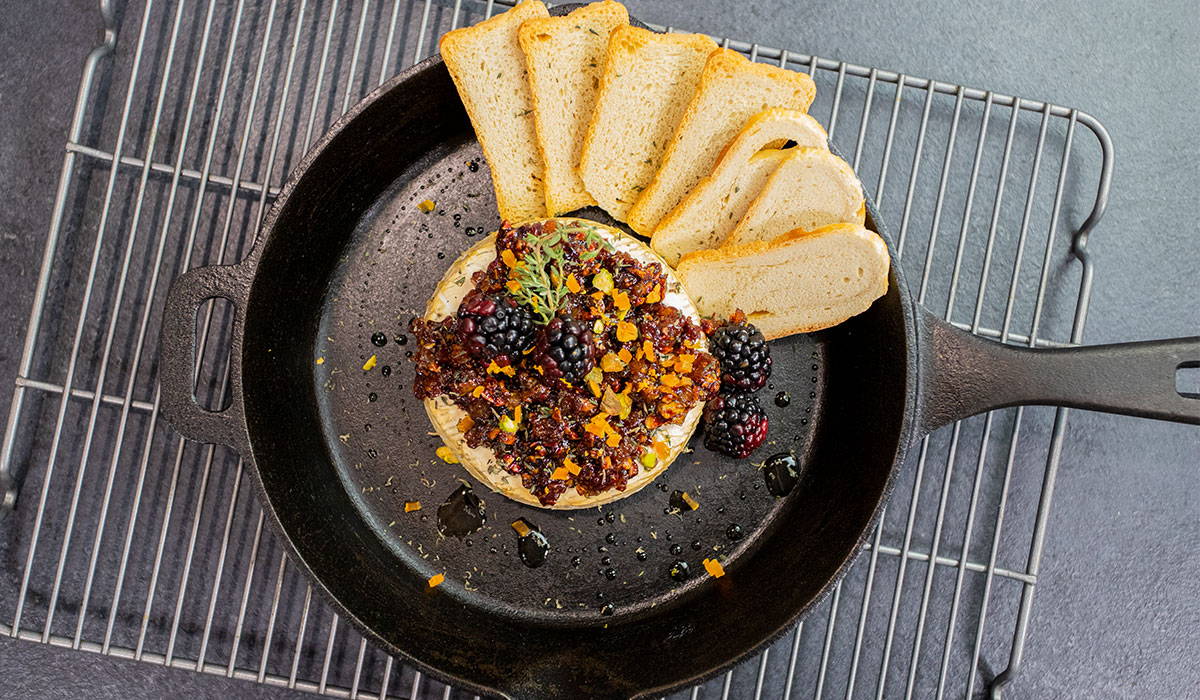 Smoked Brie with Toppings
Serves: 6
Cook Time: 40 min
Cooking Method: Smoke
Difficulty: Moderate
Prep Time: 15 Min.
Ingredients:
8 oz Brie Wheel
1/4 Cup Blackberries
1/4 Cup Blackberry or Fig Jam
1/4 Cup Dried Apricots, Chopped
1 Orange, Zest
1/2 TBSP Honey
1/4 Cup Pistachios, Chopped
1 TSP Thyme Leaves, Chopped
For Serving, Crostini
Special Tools:
COOKING INSTRUCTIONS
A gorgeous and simple appetizer, this Smoked Brie with Blackberries will impress at any special occasion. The brie wheel is pre-smoked on low to infused wood-fired flavor then coated in a sweet and zesty mixture of blackberry jam, apricots, pistachios, and thyme. The wheel is cooked again until creamy and melty. Serve with fresh blackberries on top, a drizzle of honey and crostini for dipping.  
Wood Pellet Recommendation
In order to bring out create a nice contrast of sweet, smoky and savory in this recipe, we recommend using our Mesquite Hardwood Pellets.
Fire up your Louisiana Grills pellet grill on SMOKE mode and let it run with lid open for 10 minutes then preheat to 180° F. If using a gas or charcoal grill, set it up for low, indirect heat.
Place the Brie in a small, cast iron skillet, then set on the right side of the grill. Place a pan of ice cubes in the middle. Smoke the brie for 30 minutes.
Meanwhile, in a medium bowl, stir the jam with the apricots, pistachios and orange zest to combine.
Remove the ice and skillet from the grill, then spoon the jam mixture on top of the Brie. Increase the grill temperature to 350° F, then return the skillet to the grill. Bake for 10 minutes.
Remove the skillet from the grill. Drizzle the baked brie with honey, and garnish with fresh thyme, blackberries, and additional apricots and pistachios, if desired. Serve warm with crostini.
Recipe provided by Louisiana Grills: https://louisiana-grills.com/recipes/smoked-brie-with-toppings