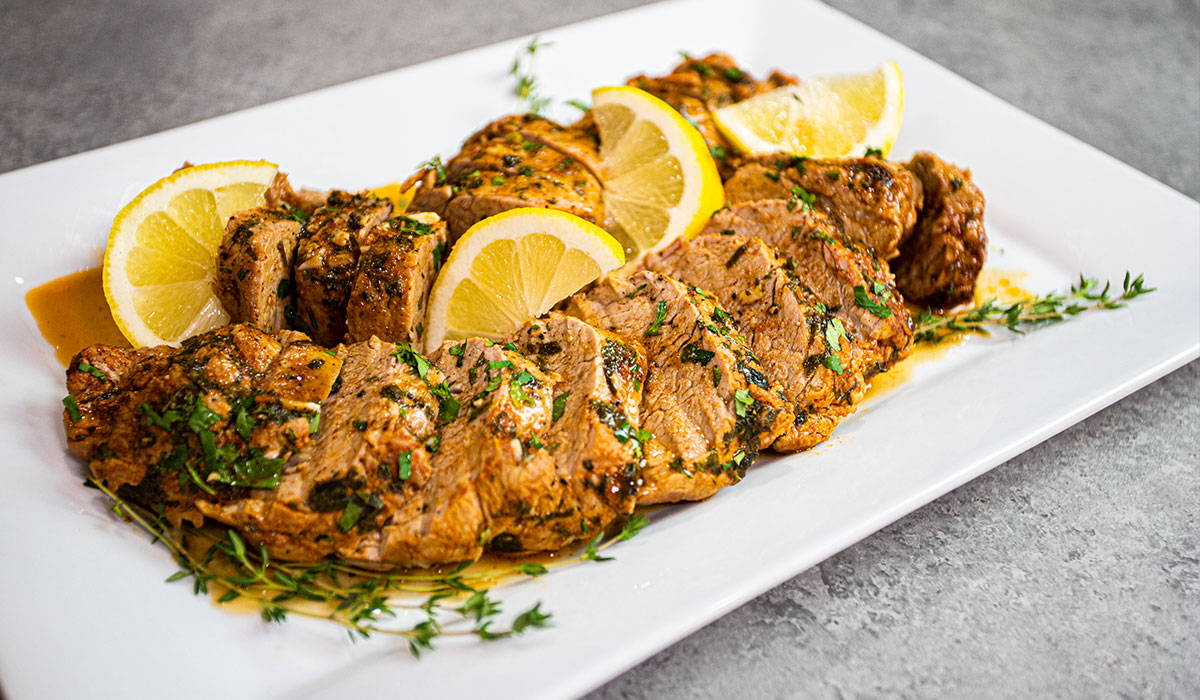 Prep Time: 20 Minutes
Cook Time: 20 Minutes
Cooking Method: Grilling
Difficulty: Easy
Servings: 4
Ingredients:
- 2 TBSP APPLE CIDER VINEGAR
- 3 TBSP BUTTER, SLICED THIN
- 1 TBSP CILANTRO, CHOPPED
- FOR SERVING, FRESH LEMON WEDGES
- 3 GARLIC CLOVES, SLICED THIN
- 1 TBSP PARSLEY, CHOPPED
- 2 1/2 LBS PORK TENDERLOIN, TRIMMED WITH SILVER SKINS REMOVED
- 1/2 TBSP SMOKED PAPRIKA
COOKING INSTRUCTIONS
Elegant enough for a special occasion, yet easy enough for a weeknight meal, this Garlic Butter Herb Pork Tenderloin results in perfect pork every time. The tenderloins are given a quick brine in cider vinegar then seared and packed in foil with a decadent garlic butter and herb mixture. As the pork is cooked on the grill, the butter melts and bastes into the meat for melt-in-your-mouth-tender pork dripping with buttery garlic herb flavor.
Wood Pellet Recommendation
Pork recipes are best prepared with mild, fruity flavors, for this recipe we recommend using our New England Apple Hardwood Pellets.
Note: Note: The FDA recommends to cook pork to a minimum internal temperature of 145°F.
Fire up your Louisiana Grills pellet grill on SMOKE mode and let it run with lid open for 10 minutes then preheat to 400° F. If using a gas or charcoal grill, set it up for medium-high heat. Place cast iron skillet on grill and allow to preheat.
Lay two long pieces of foil on a sheet tray. Set aside.
In a mixing bowl, whisk together the salt with warm water, until dissolved, then whisk in apple cider vinegar, brown sugar, and ice. Add the pork, cover and refrigerate in the brine for 20 minutes.
Remove pork from brine, rinse under cold water, then pat dry. In a small bowl, combine chili powder, garlic powder, onion powder, and smoked paprika. Season the pork.
Heat the oil in the skillet. When hot, sear the pork tenderloins on all sides, then transfer to foil sheets.
Sprinkle sliced garlic and fresh herbs on the top of the pork tenderloins, then top each with 4 pats of butter. Bring up the sides of the foil to completely enclose each tenderloin, then return to the grill.
Grill for 15 to 20 minutes, depending on the thickness of the pork, until an internal temperature of 145° F is reached.
When pork is done, carefully loosen foil, and let rest for 10 minutes before slicing. Serve warm, drizzled with residual butter sauce in the foil packets.
SPECIAL TOOLS
Aluminum Foil
Cast Iron Skillet
Mixing Bowl
Sheet Tray
Small Bowl
Whisk
TIPS:
Do not brine longer than 20 minutes. Any longer will result in mealy pork.
Recipe from Louisiana Grills.